What is Coinbase?
Coinbase, a digital assets exchange based in San Francisco (California), called "the PayPal of virtual currency" from Wired, is a platform that allows you to buy and sell not only Bitcoins, but also several other cryptocurrencies, such as Litecoin, BitcoinCash, Ethereum, Ethereum Classic, 0x, Zcash, BAT, USDC, Ripple (XRP) and, the new arrived, Stellar Lumens (XLM). However it is constantly evolving so new cryptocurrencies are added very often.

In addition, Coinbase can also be used as an online cryptocurrency wallet where you can collect the profits of the major faucet online (in this article you can find the best ones).

In this guide I will help you step by step on how to use this platform, in particular on how to buy bitcoin.
Create a Coinbase account
Registering an account is very simple, just click on this link or on the image above, enter a real email address, first and last name, password and mobile number to verify the account.
Once this is done, proceed by submitting an ID to verify your identity and registration is completed.
What can you do with Coinbase?
Once all the previous steps have been completed we can use Coinbase to:
Buy and sell Bitcoins through our Coinbase account
Receive Bitcoins directly on our Coinbase Wallet
Convert Bitcoin into euros (or your local currency)
Do some trading online
Note: To convert Bitcoin and to do trading online I suggest to use Coinbase PRO, the Coinbase official digital assets exchange, of which I made a guide that you can read here. This is to avoid the high fees that Coinbase charge for conversions.
How to buy Bitcoin on Coinbase
To buy Bitcoin, you need just to log in to your Coinbase account and submit your bank account, or you can use a Credit Card or Paypal.
Once we have chosen the amount you will be given the information for the purchase of Bitcoin through Coinbase: it is very important to be careful about the purchase reference number that must be inserted as the reason of payment to have the Bitcoins credited to our account.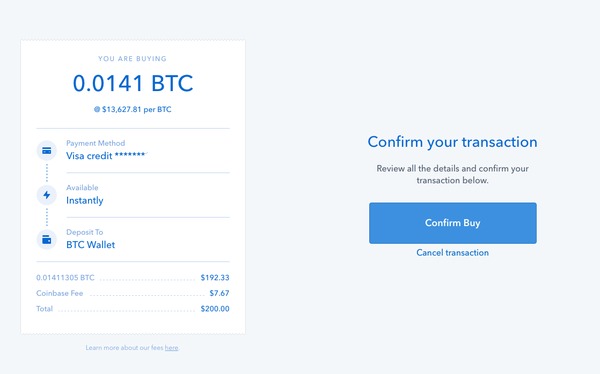 Once you have confirmed the payment, Coinbase will take care of the finalization of the purchase and will give you the Bitcoin by crediting them on your wallet (you will receive a confirmation email from Coinbase when the Bitcoin are added to your wallet).
You may also be interested in: